Debbie Does Salad
DIY healthy salad bar in Canggu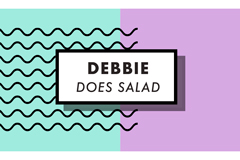 Debbie Does Salad
Debbie Does Salad is your local healthy, filling food specialist. Chose from a range of healthy, delicious power & breakfast bowls – or build your own. Friendly to the gluten-free, vegan, dairy intolerant, vegetarian and carnivore alike.
Slinging EXPAT roasters beans out of our La Marzocco – we have the best coffee in Echo Beach (probably Canggu…). For the health conscious we have Canggu's only Kombucha on tap, fresh juices and magical smoothies galore.
Looking for a quick snack or something sweet? We stock Mindful Munchies vegan treats and Mad Pops vegan icecream (Pro tip: combine the two).
Come down to our back alley hideaway and try for yourself. Next to Moon Rocks Surf Shop in Echo Beach #thinkdirtyeatclean
Dojo Bali
Dojo Bali is a coworking space located on the beautiful island of Bali, Indonesia. Dojo Canggu is open 24/7 and located at Echo Beach, Canggu offering a collaborative and relaxing coworking environment. New locations are coming soon. Stay tuned to find out where the next Dojo will be set up.
Dojo Bali is a Registered Trademark and under license of PT Mintox, Indonesia
PT Dojo Bali Coworking Registration No: AHU-3570685.AH.01.11.TAHUN 2015
www.dojobali.org