Coliving Bali Package Includes: Airport Pickup | Accommodation | Unlimited Dojo Coworking | Sim Card | Surf & Yoga Lessons + More..
Awesome Community & Cosy Accommodation
Living in Bali is amazing but is sometimes tricky to navigate and get started… we will help you.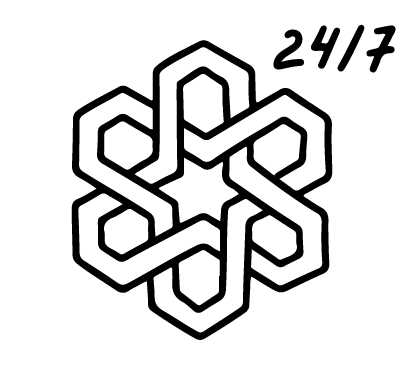 Rooms & Accommodation
Our rooms are all made with lots of love! Cosy bedding, convenient layout and lovely decoration will make you feel at home right away.
You can choose between 4 different accommodation options, ranging from large bungalows with their own balcony, to smaller bedrooms. All rooms feature an en-suite bathroom and have access to a shared kitchen, chill out areas, tropical garden and lush lawn area for sunbathing and amazing pool to cool off.
Each room equipped with a private bathroom with toilet, shower, wash table and free toiletries. Beach towels are also provided for all guests
All Includes
Daily Cleaning
Private en-suite
Weekly Linen Change
Fresh Bath Towels
Western Kitchen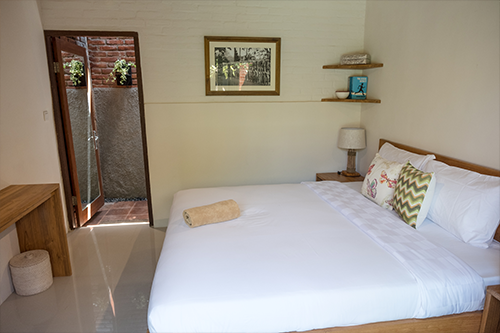 Queen Room
Private air-conditioned room includes queen size bed (180x180cm), wardrobe cabinet, work desk, safety box & private en-suite bathroom, outside shower, luxury linen + Dojo Unlimited Membership.
Rate: $385 per week or $1050 per month | Book Now

Queen Wooden Bungalow
Private air-conditioned wooden room includes queen size bed (180x200cm), private balcony, ceiling fan, wardrobe cabinet, work desk, safety box & private en-suite bathroom, luxury linen + Dojo Unlimited Membership.
Rate: $420 per week or $1200 per month | Book Now

King Room
Private air-conditioned room includes king size bed (200x200cm), wardrobe cabinet, work desk, safety box & private en-suite bathroom, outside shower, luxury linen + Dojo Unlimited Membership.
King Wooden Bungalow
Private air-conditioned wooden room includes king size bed (200x200cm), private balcony, ceiling fan, wardrobe cabinet, work desk, safety box & private en-suite bathroom, luxury linen + Dojo Unlimited Membership.
Current Availability
To help you pick your dates the below table shows availability for the next few months.
| Nov 18 | Dec 18 | Jan 18 | Feb 19 | Mar 19 |
| --- | --- | --- | --- | --- |
| Full | Limited Availability | Full | Limited Availability | Available |
Kitchen & Communal Area
Dojo Coliving Provides the guest with a communal western kitchen with all the facilities required to cook, only a couple a minute away from an amazing organic grocery store and local super market we give extra brownie points for guests that like to cook for everyone. The kitchen boasts stunning granite bench tops, 2 burner gas stove, large fridge and freezer.
We also have a nice swimming pool and a lounge room for you to relax or play board games with your new friends. Our place is surf-board friendly too.
While we do have amazing staff, please help all guests by washing up and keeping the kitchen area tidy. Our kitchen does have some essentials like free tea & coffee & fruit. We also stock various products, such as Beer, Cold Brew Coffee, Kombucha, Soft Drinks & Chocolates in a separate fridge.
Who's it for?
If your new to Bali, then this makes your immersion into Bali lifestyle fast-tracked and access to the Dojo Community even faster. Enjoy meeting high-calibre fellow entrepreneurs, that value work-life balance, explore the tropical island of Bali, while being a part of a vibrant community of digital nomads, business people, participate in daily events at Dojo Coworking or just lounge around the pool.
We designed our Coliving space as your home away from home, where you can work either at your private work space, or in the common areas. Our Coliving space is only few minutes away from Dojo Coworking, therefore, you can choose if you want to be using the coworking space to work and the coliving space, to, well… live and enjoy the company of your Coliving neighbours, but it's really up to you.
Spent 2 months living at Dojo Coliving and I loved it! The room is comfortable and have a minimalistic nice decoration. If you are thinking about staying for a while working in Bali, this place is for ya! love the kitchen as well(it's so pretty!) Best thing is there also enough restaurants/market nearby.
Sari Harasti
I've had the pleasure of staying at Dojo coliving and I've got to say it was a stress free ways of coming to Bali, brand new room, great location, really nice facilities in this villa there was four other people in the same situation as me.
David Willey
Coliving Gallery
Take a peak inside.
Location
Get the full coworking and coliving experience only 5 minutes from Dojo Coworking space and the beach, all on the same road, Dojo Coliving space has access to everything Canggu & Bali has to offer, nestled inside of a Balinese village, walking distance from local warungs (cafes), a grocery store, a gym, 50 meter pool, yoga studio, health food shops, bars, and delicious nearby cafes. The location is amazing and provides access to Pererenan village through the ricefields. We recommend using a scooter to get around for true freedom.
Rules & Policies
Please read our rules & policies so that all guests can enjoy their stay.
All prices are in USD
Check-in time – 2 pm, checkout time – 10 am;
Sorry, no children are allowed
Sorry, no pets (there are enough that will just stroll in);
NO SMOKING
No excess noise past 10 pm, unless everyone agrees to party, and that means EVERYONE. Please, always respect other guests.
Rooms are cleaned daily, except for Sundays, guests need to ask our staff to clean the room;
Place is fogged and sprayed once a week to get rid of mosquitos, please understand, you are in the tropics, so bugs, geckos and amazing little creatures are always a fact of life here in Bali.
Cancellation Policy
Cancellation 14 days prior to check-in day forfeits 50% of the invoice amount.
Cancellation 13 days and less prior to the check-in day forfeits 100% of the invoice amount.
* PROMO CONDITIONS

20% Discount is applied to whole room rate for selected period.
Promo requires full payment for accomodation to be valid.
Booking payment is NON Refundable.
Due to the amount of enquires we can only hold positions for people that have made payment on dates. (First come first serve).
Q. What is the length of stay?
We offer flexible stay lengths to suit your individual requirements. You can stay with us as long as you want, but the minimum length of stay is 7 nights, please note that the prices may vary depending on the season.
Q. Do you provide laundry facility?
We take care of all of the linen and towel laundry. We do not provide a laundry service, but we have information and the locations of all the local laundries. Our host will be happy to help you find the right one for you.
Q. Do you have breakfast included?
Sorry, we do not provide breakfast at Dojo Coliving, however, there are so many amazing places in Canggu to eat at, however, we do have fresh fruit, tea & coffee. Most of our guests prefer this option. You are also able to keep food in the fridge and cook your own delicious treats at our beautiful kitchen.
Q. Can I cook my own food in the kitchen?
You are more than welcome to cook you own food, we also offer a big fridge to store your groceries and containers.
Can I smoke in the house?
No. Smoking is not allowed, you are able to use a dedicated smoking area outside of the Coliving Space.
Dojo Bali
Dojo Bali is a coworking space located on the beautiful island of Bali, Indonesia. Dojo Canggu is open 24/7 and located at Echo Beach, Canggu offering a collaborative and relaxing coworking environment. New locations are coming soon. Stay tuned to find out where the next Dojo will be set up.
Dojo Bali is a Registered Trademark and under license of PT Mintox, Indonesia
PT Dojo Bali Coworking Registration No: AHU-3570685.AH.01.11.TAHUN 2015
www.dojobali.org